2021 September 21
Meet SASA at SIRHA LYON 2021!
SIRHA LYON is the world's leading trade show for food service and hospitality and gathers all the actors of this industry at the exhibition center EUREXPO. The 20th edition of SIRHA LYON, from 23 to 27 September, learns from the pandemic and its impact on the Food Service sector. SIRHA LYON has adapted its programme accordingly and is proposing key moments to inspire, share best practices and meet the expectations of the professionals working in a fast-moving sector. Its visitors come to discover, compare and be inspired about the profession and the opportunities of today and tomorrow. 
SASA participates in the upcoming SIRHA LYON from 23 to 27 September and you can find us at our 40m2 meeting point in hall 4 with the stand number 4E127. 
SIRHA LYON is a valuable marketplace that allows visitors and exhibitors alike to experience innovation first-hand by witnessing major competitions. We are very proud to support not one but two prestigious competitions at SIRHA LYON, namely the "French Bakery Cup" and the "International Contest for Young Bakers".
Image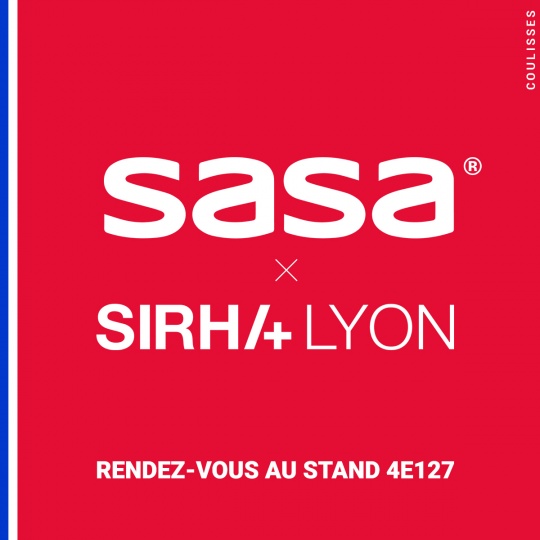 SASA support the French Bakery Cup and Young Bakers Competition during the SIRAH
Taking place throughout the exhibition, the French Bakery Cup invites twelve teams of three bakers, all from the same region, to compete live over a period of three days. All teams must participate in four different challenges featuring: bread, pastries, an artistic buffet as well as a baking catering test (snacking). The team that wins the French Bakery Champion title will have the privilege of representing France for the next European Bakery Cup and will be announced on 25 of September 2021 at 05:00 PM.
Created in 1971, the annual International Young Bakers Competition brings together contestants from member countries of the "International Union of Bakers and Confectioners" (UIBC) association. In 2021, the 49th edition of the competition brings together young talents from eight countries for two days of competition. To claim the title of Best Young Baker, the eight teams made up of two bakers under 25 years compete in the following five categories: bread, rolls, sweet yeast dough, puff yeast dough, and an exhibit piece.
As official partner of both competitions, SASA equips the contestants with chosen material that enables them to bake high quality products and offer them the best support to win the French Bakery Cup and to claim the title of Best Young Baker.

Meet the world leader in rigid baking trays
Founded in 1978, SASA is the world leader in rigid baking trays and is the only company in the world to formulate and produce its own non-stick coatings including unique silicone bakery products. As part of the Sasa Demarle Group SASA, we benefit from 50 years of experience and continue to develop high-quality products that satisfy more than 50.000 clients worldwide. This unique expertise allows SASA to offer products perfectly adapted to the needs, even atypical, of our customers. Its offer also includes solutions for proofing and storage.

Discover our new innovative products
Meet us at our stand 4E127 and let us inspire you with our non-stick coating products that make the baking profession and your passion even more rewarding. We are excited to be showcasing SASA's newest innovation "Peelboard" at our stand. Developed to ensure optimum hygiene during proofin, our re-usable peelboards are suitable for food contact, are rot proof and easy to handle due to the light weight and round corners. Join us and experience the French art of living through the freedom, quality and serenity of our products and share with us your needs and expectations. Our sales representatives are eager to meet you and discuss how we can support you moving forward.
We can't wait to welcome you at EUREXPO LYON from 9:00am to 6:00pm in Hall 4 at our stand 4E127.
For your information, SIRHA LYON trade show and EUREXPO have implemented a health protocol to fit the recommended sanitary requirements set forth by the French authorities. Collectively respecting the measures and instructions will enable the public to enjoy the exhibition in the best possible way. 
For useful information on how to make your visit at our stand at SIRHA LYON as easy as possible please visit: https://www.sirha.com/en/useful-information.