2022 February 24
Responsible and proud of it
Equality and diversity
• Equality between women and men. Designed by the French Ministry of Labor to measure the gender pay gap, the Egapro Index is an indicator based on 5 main evaluation criteria and is scored out of 100. The Egapro indexes found in our group are good to excellent (94/100 at SASA).
• No discrimination. SASA is a signatory to a non-discrimination charter which affirms the fundamental principle of equal opportunity and treatment within its various entities. SASA is thus committed to implementing equal opportunities and treatment in all decisions related to recruitment and HR management of employees throughout their career within the company, without taking into account any discriminatory motive in the context of the professional relationship. SASA also communicates its diversity and non-discrimination policy to its partners.
• Employment of disabled workers. In accordance with the law, SASA employs at least 6% of disabled people, either directly - by recruiting them - or indirectly - by using ESATs (Etablissement et Services d'Accompagnement par le travail) for the printing of the internal newspaper, the maintenance of green spaces or the collection of waste.
Employment
• Apprenticeship. SASA currently has 9 work-study students, and the group's desire is to perpetuate this policy, which contributes to the integration of young people into professional life while allowing the company to create a talent incubator. SASA thus assumes its social and educational responsibility towards young people.
Openmind
• Implementation of QWL (Quality of Life at Work) agreements. Negotiated with the social partners, these agreements promote the improvement of employees' working conditions and aim to guarantee their well-being in the company, as well as the balance between their professional and family life. Among the measures put in place are the Senior Agreement on the Generation Contract, the right to disconnect, the agreement on Gender Equality, the agreement on hardship and the agreement on the organization of working hours.
Security & wellness at work
• Individualized integration program. This week enables new employees to get to know the company and its organizational practices better. On the menu, an in-depth visit of the production site, but also immersions in other departments and the recent introduction of a welcome kit.
• Internal development. By allowing its employees to have access to training leading to certification or qualification, SASA is committed to increasing the skills of its employees. Some of them have thus been able to benefit from the implementation of certification training and develop their skills in order to adapt and evolve in their position.
Respect of the environment
• Compliance with the standards in force. The SASA production site is registered as a Classified Installation for the Protection of the Environment (ICPE), one that is likely to have an impact on the environment. As such, the group is subject to numerous controls and obligations, and its atmospheric or aqueous discharges are regularly measured and fully controlled.
Energy saving
• LED. A massive lighting change took place in 2019. The aim is to give priority to LED lighting. Sasa is now 30% equipped with LED lighting (workshops and offices) and this development will continue.
Circular economy
• Waste collection. The waste produced by SASA's activity (office waste, computer waste, industrial waste... there are no less than 15 different waste streams or types!) is sorted and then recycled or recovered, when possible, with external service providers. This is the case, for example, for scrap metal or silicone. Their resale does not generate a profit but allows to compensate the price of the collection while being virtuous for the environment.
• After-sales service. With its "Sérénité" offer, launched in March 2021, SASA is extending the life of its cooking supports. When the non-stick coating of its products is worn out, if the support is still in good condition, SASA undertakes to replace it. Old coatings are reprocessed with other metal waste.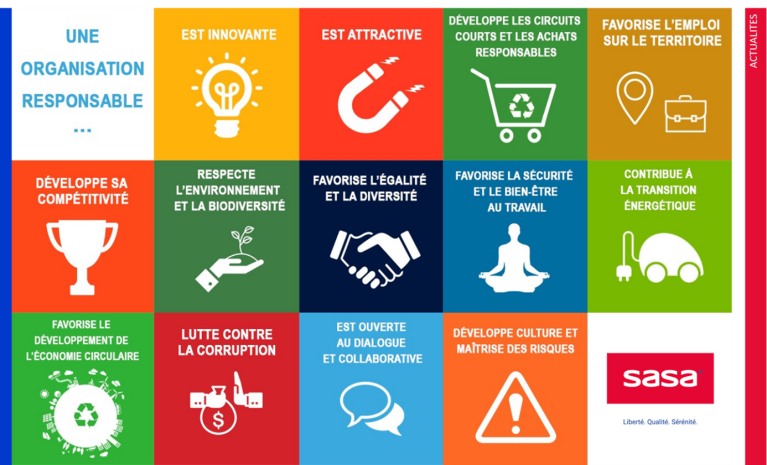 Corporate social responsibility (CSR) is defined by the European Commission as "the voluntary integration by companies of social and environmental concerns into their commercial activities and their relations with stakeholders". At Sasa Demarle, CSR is a set of actions aimed at satisfying customers, employees and shareholders by addressing current social, economic and environmental concerns. Our mission in 2022 will be to formalize, valorize and improve all these actions in order to establish the company's CSR approach.