2021 December 13
Punch-Machine Operator
What's your bread & butter? 
We are strengthening our market presence in the north of France at the SASA Headquarters in Cateau Cambrésis. Our passionate team, at the service of creating reliable and quality product, is looking forward to welcoming you at our new showroom. 
In this modern space we focus above all, on achieving the optimum closeness to our customers and the best visibility of our SASA solutions and innovations. For more than 40 years, SASA has designed non-stick coatings and is recognized for the reputation of its products, its innovations and the expertise. 
The showroom is designed to offer a unique experience and facilitate exchange between visitors and our brand and products. 
Know-how passed on in the field
But the Brück's strength, like any super-power, also brings responsibilities. "Everything can be crushed if we make a mistake in the mounting, says Eric. That is why we need to remain alert and focused".
His ultimate satisfaction is to have passed on his very specific know-how: "I trained Aymeric 100%, and David was half trained by myself and half with a former colleague". This shows that even in the industry the spirit of craftsmanship is still present.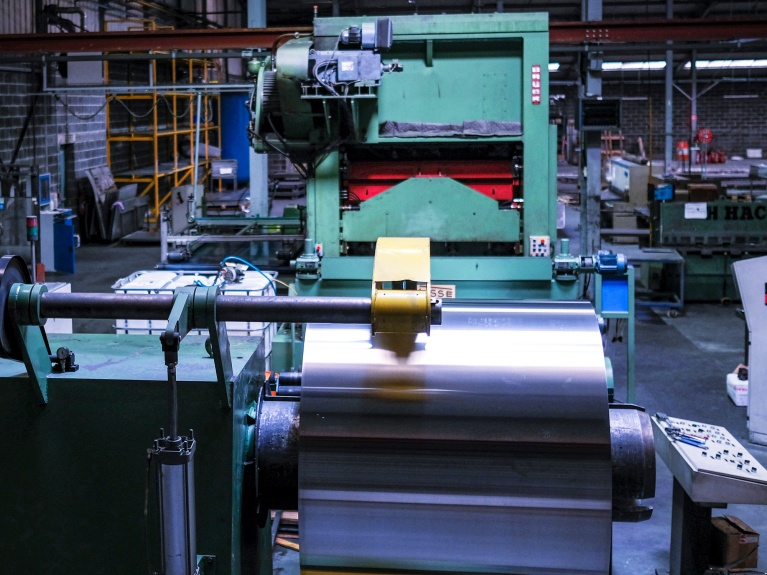 A true war machine
Up until 1996, he worked on a smaller and less efficient press. The Brück changed everything. "What we used to produce in a month can now be done in a week". This machine can indeed run at 435 strokes/minute. Length, width, thickness of the metal, size of the perforations (from 1.4 to 6mm diameter), everything is adjustable to the order.
The perforated metal is then cut, honeycombed, and coated with silicone before being mounted in frames.